---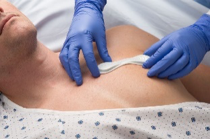 (photo: MediBioSense)
---
Wearable devices and applications have become a major and growing part of digital health. They were one of the key areas of attention at CES 2018. Reports from MedCityNews and Mobihealthnews highlighted wearables' versatility and integration into new products that monitor sleep and even signs of concussion. Another major area of progress for wearables is their greater accuracy in monitoring essential vital signs such as heart rate and activity.
Hospital, post-acute, and home care settings are increasingly adopting wearable wireless biosensors and apps for patients who require monitoring. Ensuring that patient data remains secure and private is one of the highest priorities for healthcare organizations. Blue Cedar's mobile app security technology specifically addresses this need.
One company now working with Blue Cedar is MediBioSense, the UK distributor of the FDA-cleared and CE Marked VitalPatch, developed by VitalConnect. The VitalPatch biosensor monitors eight vital and activity signs such as heart rate, respiration, ECG, and temperature, and also detects falls. The app conveys this information to clinicians in graphical format to track the patient's condition and progress. CNBC's "Power Lunch" recently reviewed VitalPatch as part of a program on the future of medical devices.
One of MediBioSense's leading concerns was protecting patient data flowing from the app to provider databases against possible data breaches.
84 percent of cyberattacks happen at the application layer (SAP

)

Unsecured apps are vulnerable to hacking and device jailbreaking, which can compromise protected healthcare data and put providers at risk
Another factor is the GDPR (General Data Protection Regulation), the pan-European data-protection law, is slated to take effect in May. The GDPR not only applies to European Union citizens' personal data, it also requires organizations to report on how they safeguard that data.
To secure patient data MediBioSense turned to Blue Cedar. Blue Cedar's code-injection technology secures the VitalPatch data while the data are being transmitted from the app to provider databases in the cloud. This added protection enables the tap-and-go "anywhere access" convenience urgently desired by clinicians. The embedded code protects health apps with military-grade encryption—quickly, efficiently, and cost-effectively. Blue Cedar-secured apps also provide the granular analytics describing users, app usage, devices, and operating systems that are useful for meeting GDPR requirements.
In partnering with Blue Cedar, MediBioSense's CEO Simon Beniston considered that "mobile apps and cutting-edge technology are a game-changing combination in healthcare, helping improve lives and meet the increasingly stringent demands placed on modern healthcare services. But ultimately, these apps are only as effective as their level of security—especially with GDPR on the horizon. Our partnership with Blue Cedar ensures that patients' data is secured at all times and that their privacy needs are met consistently."
"MediBioSense is a true innovator and is renowned for delivering disruptive healthcare solutions to the global market," said Blue Cedar CEO John AIsien. "Blue Cedar will help MediBioSense secure all real-time patient data flowing from the VitalPatch app to any recipient database—be it a hospital database that preserves a patient's electronic health record upon discharge, a medical trial database, or a database in the cloud. For the first time, we're enabling their solution to securely go anywhere and everywhere, while still maintaining the highest standards of data protection."
The number of mobile, wearable, and IoT health apps is growing rapidly—over 320,000 were available for use in 2017, with 200 being added daily (IQVIA and Research2Guidance estimates). Their adoption has become critical to patient telehealth services, chronic care management, patient clinical trials, personal health management, and value-based care. Yet protecting the privacy of the data generated by users and patients remains a major concern, both for enterprises and from a government policy perspective. Through their partnership, both MediBioSense and Blue Cedar are pioneering a new approach to securing biometric healthcare data—and alleviating that concern.
Additional References
Blue Cedar Teams With MediBioSense
Healthcare Applications in the BYOD World
Securing Healthcare Apps in a BYOD World
VitalPatch Product Brochure/MediBioSense Video