October is Cyber Security Awareness Month, and websites and newsletters are full of precautions businesses and consumers can take to keep their devices and data safe. Some of these tips are common sense to those of us who write and read security blogs—use strong passwords, only download from trusted sites over secure connections, make sure personal and sensitive information is handled securely.
As your organization provides increasing amounts of data via mobile and cloud apps, your users appreciate availability and convenience, but also expect trusted security.

Good branding is more than a memorable logo. Your brand represents your users' and employees' perception of your company's reputation and health. Branding improves recognition and creates credibility and trust.

The same principles also apply to security. By applying your own corporate brand to your secure mobile apps, your extended enterprise users can easily recognize your secure app – even if they have similar apps on their mobile device.

When you secure your app with Blue Cedar Networks' App Customization policy, an overlay icon is added to the app icon to identify the wrapped app.




And now you can customize the user interface of the security screens that device users see. These screens include:
The launch screen displayed as the app starts.
Enrollment screens seen the first time the app is used.
Authentication screens when a user sets up or enters a local app authentication passcode.
By default, these screens use the Blue Cedar Networks theme, with the Blue Cedar logo and color scheme, but you have the ability to further tailor these to your brand specifications:
Display a banner saying "Secured by Blue Cedar Networks" at the top of the security screens.
Use your own branding by changing or clearing the background image or color, changing the font and button colors, and uploading your own logo.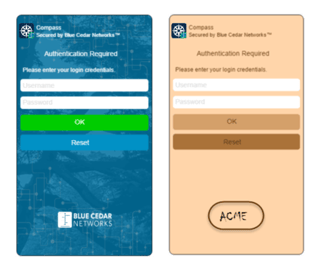 For example, if your employees are using an internal app provided by your company, you may only want to enable the security banner so they know they're using a secure version of the app. For apps used by your extended enterprise—employees, contractors, vendors, partners, and the like—you may want to add your company branding. In these cases, you can reinforce the importance of security awareness by training users to recognize the security indicators.

These visual options are available with any BCN security policy, so whether you're adding local passcodes, protecting app data on the device, securing the network tunnel connection, or applying other security policies, you can wrap the app with the App Customization policy along with other protective policies from BCN.

Learn more about app customization and the other robust policies we offer by downloading our Policy Guide from the link below.