Data-at-Rest Encryption
The Blue Cedar Data-at-Rest policy encrypts app data before saving it on the mobile device, shielding the data from malware, rogue apps, and hackers who attack the device's stored information. To do this, Blue Cedar's injectable security intercepts all file system I/O for the protected app, and uses FIPS-certified algorithms (AES-256 bit, XTS) to encrypt/decrypt sensitive information, including cookies, certificates, and app data.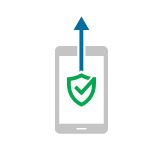 Data-in-Transit Encryption
Blue Cedar's injectable security intercepts network calls from the app to ensure that data is encrypted while it traverses the network. Each app establishes its own dedicated, secure microtunnel using IPsec, making the secure connection completely transparent to the user. The secure microtunnel not only provides security for data-in-transit, it also provides seamless access to back-end resources– without the need for a device-level VPN.